eAlarm SOS -
The Smartest Way to Stay Safe
eAlarm SOS offers 24/7 rapid emergency response services. When an emergency strikes, every second counts. Citizens often need to call for help but are unable to speak due to shock, shortness of breath, or lack of time. eAlarm SOS is the perfect solution, delivering fast affordable access to emergency responders during a potential life threatening emergency. With a 24/7 Dedicated Monitoring Team, Just One Click – HELP is on the way.
How it works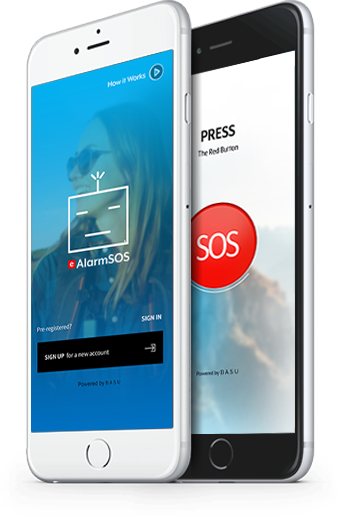 About Us
WE CARE ABOUT YOUR SAFETY. eAlarm SOS is a Smart Safety App that gets you help in an emergency with the
touch of a button.
eAlarm SOS is designed to offer a 24/7 Rapid Emergency Response at the touch of a button. When an emergency strikes, users have only a few seconds to react and summon help, often unable to talk, or go through multiple steps to contact emergency personnel. eAlarm SOS also offers Smart Check-in. Smart Check-in allows you to automatically notify a loved one that you are safe and sound each day. Often times, friends or family members may not have time to check in because of work or schedule, but remain concerned about the safety of their loved ones.
eAlarm SOS is a B A S U product. B A S U has been serving the North American and global markets with the award-winning eAlarm line of Personal Safety Alarm systems and solutions with the highest commitment to quality service, response and care for customers. B A S U has been covered extensively in national and international media and press in recognition of its goods and services and for its relentless pursuit of customer centricity.
Smart SOS:

"One Tap and HELP is
on the way"

Single click activation to notify 24/7 Dedicated eAlarm SOS UL & CSAA 5-Diamond Certified Alarm Monitoring Team.

Instant Emergency Alert Notification to personal emergency contacts with live event link showing real time GPS location.

Rapid Emergency Response from nearest emergency responders.

How it works
Smart Check In:

"Let your loved ones automatically know
that you are safe & sound"

SmartCheckIn allows you to feel safe and let your loved ones know that you are safe so they don't have to worry. There is no additional phone call needed, no typing and sending a message. All you do is to tap on the notification you receive on your phone to check in.
Your loved one will know immediately that you are safe by receiving an automated text message. In case you don't check in at the time you set, your loved one knows that they need to check on you.

How it works
How is eAlarm SOS different from calling 9-1-1?
When someone calls 9-1-1, they connect to a central operator who will ask several questions and verify the emergency, get information about the user's location and then connect with the nearest dispatch. In an emergency, many times, people cannot or have no time to speak over a phone call. With eAlarm SOS, the user simply taps a button and the monitoring station knows the identity and GPS location and then connects the nearest emergency responders to be dispatched. It cuts down the entire 9-1-1 operator time for response.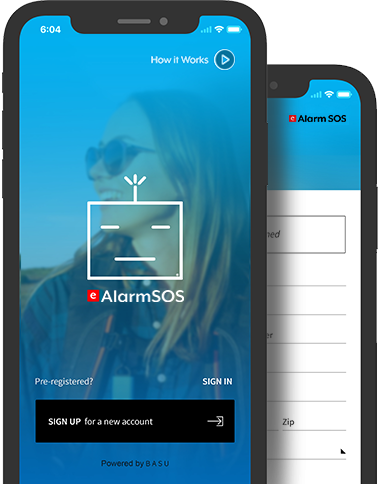 Download
eAlarm SOS on iOS & Android
eAlarm SOS is a Smart Connected Safety Application available on Apple App Store and Google Play Store. Powered by California, USA based company B A S U, eAlarm SOS is designed to offer a 24/7 Rapid Emergency Response at the click of a button.